PUEBLO drives THRU Suffolk Downs HYM Summer Screens
The HYM Investment Group is hosting a summer drive-in movie series at the Suffolk Downs redevelopment site every Thursday, starting in August and running through September. In a column in the Eastie Times, Tom O'Brien, head of HYM and the Suffolk Downs Redevelopment Project, is quoted saying, "As we plan for the long-term redevelopment of the site, we are looking at different ways to honor Suffolk Downs' rich entertainment history." We need O'Brien and HYM to also honor the history of the immigrant, working class community in East Boston, where they want to build their luxury development. Currently, the proposed "affordable" units are only affordable to families earning $80,000 or more. Is that truly affordable in the historically working class community of East Boston? Right now, 50% of East Boston households earn less than $53,000 — and even this income level is up from five years ago, after waves of gentrification have driven up median income and driven out lower-income families. We demand that HYM increase the amount of affordable housing to 50% of total units and deepen affordability to 30% AMI (area median income), which at around $34,000 is reflective of rent-burdened residents of East Boston. We also demand that an annual percentage of total site revenue be contributed to an anti-displacement stabilization fund managed by a board of East Boston residents, community groups, and community-elected government officials.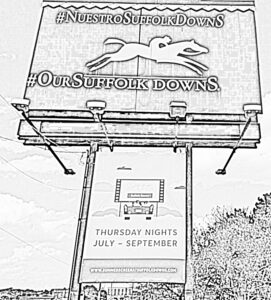 Regarding the drive-in series, the event does more to illustrate HYM's failures in the development process than honor anything about East Boston's past or present. To that end, Pueblo Unido de East Boston para Liberar y Organizar (PUEBLO), our community coalition, will be reviewing the films that HYM screens this summer. More than reviewing the films, we will be tying the films back to HYM's failures in the development process, their failures to East Boston, and their failures to fair housing (which are in line with attacks on fair housing by Trump and others). Check out this site every Saturday morning as we publish our reviews of the films shown by HYM.
Let's preview the commentary to come:
The film selection is a bit too literal. The highlights include The Goonies, about a group of children fighting to save their neighborhood from a greedy developer (yikes), Jurassic Park, about a certain development project gone, ahem, awry, and Field of Dreams, with the famous (and famously misquoted) tagline, "If you build it, they will come." — Who, we wonder, will come to Suffolk Downs's 10,000 luxury units when price is such a barrier?

The HYM event also betrays typical cultural illiteracy and echoes earlier civil rights violations. The lack of interpretation services at public events previously landed the Suffolk Downs project in legal trouble with the feds at the U.S. Department of Housing and Urban Development (HUD) — it's a civil rights violation to make the Suffolk Downs review process inaccessible to non-English speakers. Given this history, it's no surprise that interpretation services are not provided at all of the drive-in films. One film will have translation services…but there's even disagreement on the website about which film will have Spanish dubbing. Buena suerte.

This use of the space is merrily unaware of the community, our strengths, and our needs. East Boston is home to tremendous film-making talent. An outdoor screening of these works would be a point of pride for local artists like Brian Madrigal or Gabriela Cartagena, who have made art reflecting their Eastie identity and struggles. Shorter films could even be shown before a feature film, as was typical in the days of drive-in movies. Attendance at the Suffolk Downs films also requires a car, which many East Boston families do not own, and which reminds us that HYM's project is not carbon neutral. The event costs a nominal $15 per car, enough to price out certain families but not enough to recoup much of the $7 billion that HYM will spend on the site, and certainly a departure from the free outdoor movie series that have taken place in Bremen Park in summers past. There's no East Boston in this event, just as there's no East Boston in the Suffolk Downs project, which is why we are pushing hard for the Fair Housing Ordinance to audit the BPDA and HYM's plans for development.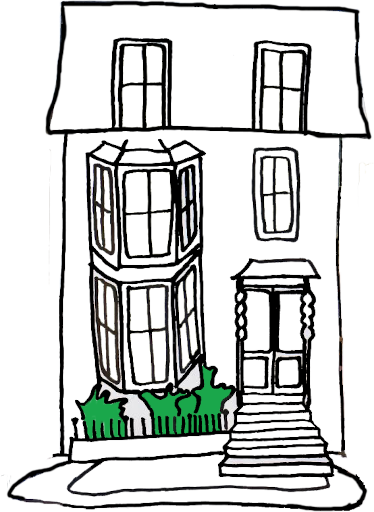 All of these issues point to a central problem with HYM, BPDA, and the Suffolk Downs redevelopment project: no community oversight. As PUEBLO, a coalition of East Boston community groups and residents, we demand to have a seat at the table for ALL decisions related to Suffolk Downs. We DEMAND a community benefits agreement (CBA) that stipulates that a yearly percentage of revenue from the site be directed to anti-displacement expenses, as well as to ensure environmental sustainability, workforce development investment, ample public space, and more. We DEMAND that there be a community-lead board — more representative of East Boston than the IAG assigned by the BPDA — to oversee the development process. This board will negotiate the CBA and determine how to best use the site during these interim times: outdoor classrooms, temporary housing for COVID-positive individuals who need a place to quarantine, socially distanced art galleries, socially distanced cooling spaces, and more. Under the direction of a community board, Suffolk Downs could be a field of dreams, rather than a Jurassic park.
Tune in for reviews of these films and more.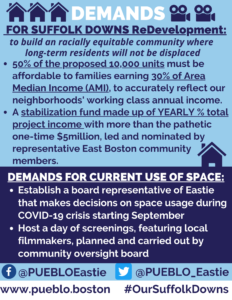 Join our Action Alerts! Sign-up below!