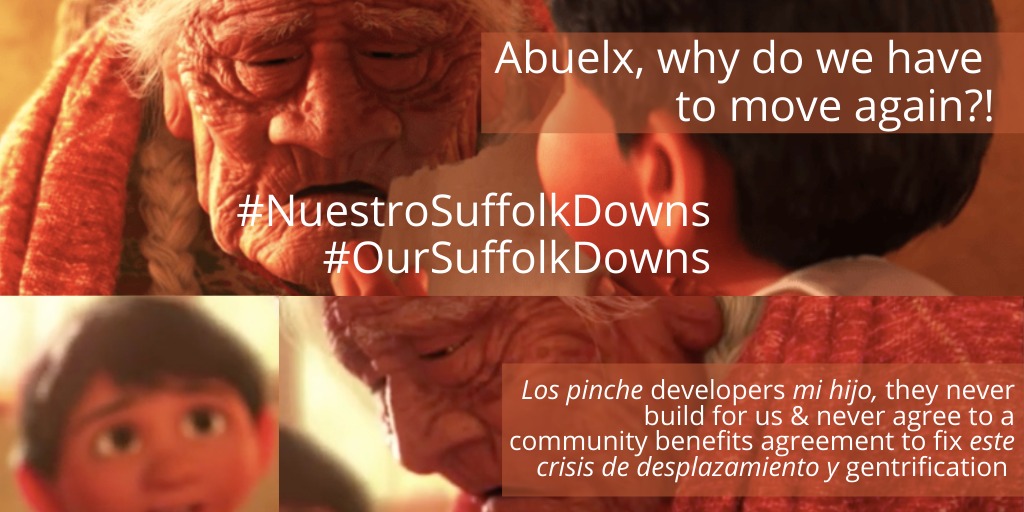 Coco, shown two Thursdays ago at the Suffolk Downs' Summer Screens series, follows the story of young Miguel attempting to follow his passion for music. A story similar to many in Eastie, young brown kids trying to follow their passions with limited familial support. Miguel broke his family's multi-generational ban on music, to follow his dream. Something many of us willing to do considering the statewide ban on rent control. On this journey, Miguel ends up entangled in an adventure in the afterlife with his ancestors. Little did we know the stories behind his family's music ban, originated from his ancestors who he meets en el otro lado. Little did we know, is the Suffolk Downs ReDevelopment is lacking the affordable housing EASTIE + THE REST OF BOSTON NEEDS. Why? Because there is not sufficient enough legislation that requires the City of Boston and the BPDA to enforce regulation that ensures affordability for its most vulnerable working-class residents.
For many, this movie is an important representation of Mexican culture in the popular landscape, and it raises some themes essential to living a conscientious life, such as: how our current society hinders us in pursuing our passions, the importance of knowing your ancestors' stories, and how our decisions in this life will affect generations to come–as well as our own spirits.
So, since HYM decided to show this movie at Suffolk Downs, let's take those themes seriously.
Will current residents be able to raise their children in Eastie? Will future generations have to travel to Eastie to visit their parents' graves after massive displacement due to the HYM development?
On a spiritual level, how does systematic dehumanization (prioritizing profit and money over well being) affect our lives? How will it affect our children? And what lengths are we willing to go to to fight for a neighborhood and community that we love? Will our spirits be unable to rest in the afterlife, or will we now go on an epic quest like Miguel.
Will BPDA and HYM leadership be at peace after they die, knowing the amount of pain and suffering they are currently set to contribute to? And what about the soul of the land, take a trip to Seaport district and see an example of a neighborhood with no soul, just luxury housing. Not to mention the spiritual & material impacts of desecrating the land and destroying the Belle Isle Marsh.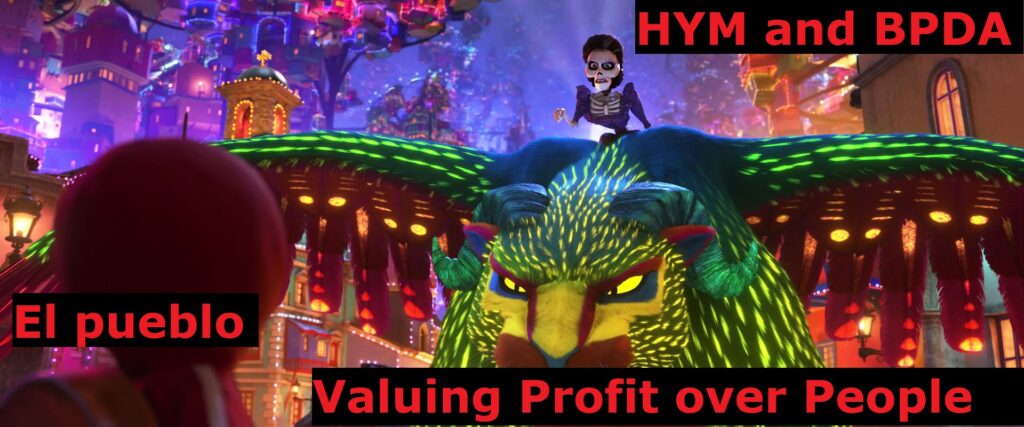 In Coco, The generations-long ban on music is clearly unjust, and Miguel even undertakes some 'illegal' actions to defy it. Similarly, working class Eastie residents are living under unjust situations with rising rents, displacement, exploitative economy, highest COVID infection rate in the city, and an IDP that only stipulates 13% of total units be affordable at 80%AMI, which is clearly not actually affordable, leading working class people to have to work multiple jobs, not leaving any time for hobbies or pursuing passions, just like Miguel's family doesn't let him pursue music. 
And similar to how Miguel defies his family, PUEBLO and many others are pushing for greater affordability, especially at Suffolk Downs. Not to get too like…eternal damnation-y but we could even say, the only way for the developers and people in power to find peace after they die and not be tormented like Miguel's ancestors, is to work to undo the corruption and injustice in our world and to value people over profit.
At Suffolk Downs this starts with HALF of units at Suffolk Downs being affordable at an AVERAGE of 30% AMI, and a YEARLY contribution of a percentage of total earnings to a community controlled anti displacement stabilization fund. (and by the way, don't tell us there's no money for it…where did all the money towards the labor development initiatives come from? Shouldn't the Boston city government be chipping in as well if needed to support affordable housing? Instead of letting 9 police officers collect over $200,000 in illegally contrived overtime pay, couldn't that instead go towards affordable housing and community driven initiatives? Aren't there local CDC's and groups that form housing coops that would help as well?)
The central question that Coco raises for the viewer is how are we living to honor our ancestors, and how can we steward the land and our neighborhood for the next generations. Our actions now will have eternal consequences, whether for future generations of Eastie, or in the afterlife.