The Goonies is the story of disrupting a luxury development project and how the working-class neighborhood, known as the Goon Docks, fights it. This central theme runs throughout the movie, following the plot of the Goonies, a ragtag group of working class kids, struggling to save their community. Similarly PUEBLO, a coalition of grassroots organizations and individuals impacted by gentrification, is struggling to save Eastie from a tsunami of evictions–not only when COVID moratoriums end, but what will happen on the long haul via property value appreciation driven by large developments such as HYM's Suffolk Downs, an entire new city of luxury apartments. How will we do it? By fighting for the inclusion of more and deeper affordability in the Project Development Agreement, before the Boston Planning and Development Agency (BPDA) approves the project.
But anyways, back to the movie shown last Thursday at Suffolk Downs. Many remember The Goonies as the adventure film of teens trying to find the buried treasure of One-Eyed Willy before the Fratellis, a criminal gang, find it. The preface of the film–organizing against luxury development–is lost to the action and excitement of finding the treasure. In a similar fashion HYM head honcho Tom O'Brien tries to pull the wool over our eyes, not only by putting up this screening series and highlighting the 'greatness' of the Labor Development Agreement, but worse by claiming 10,000 new luxury units "won't displace anyone but coyotes," attempting to fool us into thinking this is a good thing for our community. However, we know the truth–this amount of luxury housing will drive up property values, make landlords feel more entitled to charging ever higher rents for new, middle/upper middle class yuppies, and driving out our current working class immigrant community.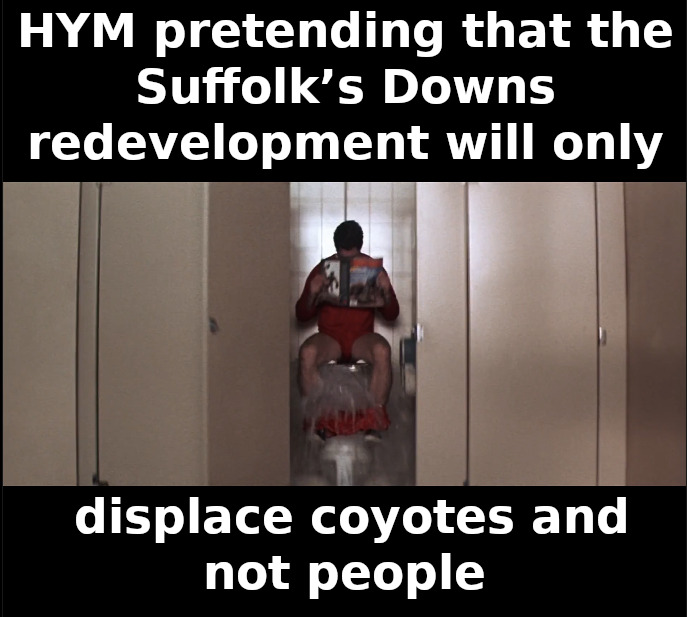 Just after the opening scenes introducing the characters, we are presented with The Goon Docks neighborhood, a working class town where a rich developer wants to demolish working class homes to build a luxury golf course, just as HYM wants to develop 10,000 units on the Suffolk Downs racetrack & demolish the communities dreams for truly affordable housing. We settle into the home of the Walsh family (unfortunately no relation to our current mayor). The two brothers Brand and Mikey talk about having to move out of town, like many working class families in Boston who are forced to move farther from the city and public transit for cheaper rent. As other Goonies show up to their house to hang out one last time, the rich developer Mr. Perkins stops by with foreclosure documents on their home,leading the main characters to urgently search for the treasure so that they can save their home. We as PUEBLO are also urgently trying to prevent the 50,000 evictions and foreclosures that will happen once the moratorium is up on October 17th.
Mr. Perkins really represents the money behind this project, much like William Bruce Harrison Jr., building what he thinks will make him money, and not what the community needs. Mr. Perkin's son Troy, an arrogant jock, takes Brand for a ride, seeking to rip him away from his friends Andy and Stef, who represent the middle class context of the Goon Docks. But in the end, the Goonies organize Andy and Stef into their fight. One can see Troy in the actions of Tom O'Brien through HYM trying to woo middle class communities with their drive-ins and donations, while putting forward a plan that rips the working-class out of the neighborhood.
By organizing and building relationships with Stef and Andy, the Goonies go from a motley assortment of kids to a movement, even bringing in members of the Fratellis gang as well. This movement building is perhaps best seen in the film when Andy, having second thoughts, says she is not a Goonie. Attempting to convince Andy to stick with it, Mikey gives an impassioned speech "[t]he next time you see sky, it'll be over another town. The next time you take a test, it'll be in some other school. Our parents, they want the bestest stuff for us. But right now they gotta do what's right for them, 'cause it's their time. Their time, up there. Down here it's our time. It's our time down here. That's all over the second we ride up Troy's bucket." This is a parable to our fight; the proverbial parents are the electeds trying to put pressure where they can, but it is our fight to confront this developer from down here in the community.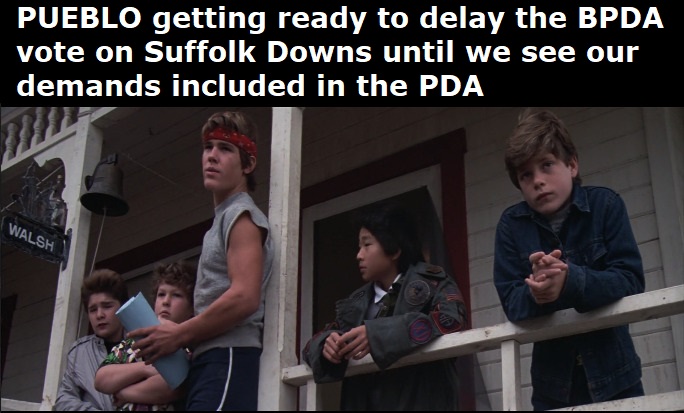 The Goonies story is familiar to many of us here in Boston, whether it is Dorchester Not For Sale, Reclaim Roxbury or recently here in Eastie with the formation of PUEBLO. Those that already live here, who the city depends on to function, have a right to this city and determine its development–it is not for the rich to develop in their own image. In The Goonies, they had no governmental recourse other than to find the wealth to save their homes. In real life, the New Deal, referenced in the film just before Mr. Perkins shows up, provided more stability through loans and public construction. But in the film, no such thing exists–much like how in Boston, the BPDA seems to always advocate for developers and sideline what the community needs. We sadly do not have a buried treasure to find, so our story will take longer to resolve than this film.
We in PUEBLO are living that adventure right now, we are growing and more people are coming out against Tom and HYM. And you can too! Be a part of our movement for a healthy, thriving East Boston (and Revere and Chelsea),where we genuinely care about racial and housing justice. Support our demands, share our page, and reach out. And just like the Goonies, we can save our communities from predatory, luxury development.